Sean's

Micro

Komputers
Sean M Kennedy, Associates
Shokan, New York, USA

---
Web space kindly donated by The Cracker Mill Hearth & Emporium
---
MY COLLECTION

Since my use of computers has been mostly for small and home business my collection consists of many business style computers. But I do also have a few "home" computers. And many of these computers have traditionally been used both in the office and at home. These days there is not much difference. But early on in the PC era many manufacturers made a concerted effort to appeal to either the home or business. Home computers were meant for entertainment. Business computers were about computing power and reliability - but not necessarily more capable than the "home" computer.

Here are some of the systems in my collection. Some of the computers in my collection are not working but most are in working condition.

Home or Hobby Computers

(as positioned by the manufacturer, not necessarily the user)
Atari 800
Radio Shack CoCo2
Commodore 64
Apple //e
Apple IIc
IBM PS/1 Consultant 386sx
IBM Aptiva P-II 350

Business Computers

NorthStar Advantage Z80
Tandy 1400 FD Laptop 8088(V20)
Packard Bell VX88 8088(V20)
Leading Edge Model D 8088
IBM PS/2 Model 30 8088
Apple MAC 512K 68000
IBM PC XT Model 286 (AT class 6Mhz)
KLH 195 286-12
IBM PS/2 Model 50Z 286
MicroLab 286-16
NEC PowerMate 286
Leading Technology PC Partner 386sx
IBM PS/1 Consultant 2133 386sx-25
AST Premium 486/33 Cupid
Packard Bell Legend 486DX2/66
Gateway 2000 486DX2/66
Micron Millennium Pentium 75/133
Compaq LTE 5400 Laptop Pentium 150
AOpen Pentium 150
AT&T Pentium 200 MMX
Power Computing PowerTower 225
E-Machines Cyrix 333 P-II 250
IBM Aptiva 2139 P-II 350
IBM PC300GL P-II 350
IBM Thinkpad 600 Laptop P-II 366
Pionex P-II 400
Dell Inspiron Laptop P-III 450
Power MAC G4 PowerPC 450
HP Brio Celeron 466
Compaq Deskpro P-III 500
Dell Dimension L550r P-III 550
Dell Dimension XPS T600 P-III 600
HP Pavilion Celeron 701
Compaq Deskpro Celeron 733
Compaq Deskpro P-III 866
Dell Dimension 4100 P-III 933
Power MAC G4 PowerPC 1000
Compaq Deskpro EN P-III 1000
Gateway MX3210 Laptop Celeron M 1.4 Ghz
Dell Latitude D600 Laptop Pentium M 1.4 Ghz
HP zv5000 Laptop Athlon XP 3000 1.6 Ghz
Dell Dimension 4300 Pentium 4 1.7 Ghz
Dell Dimension 2400 Celeron 2.4 Ghz
ECS P4VMM2 Pentium 4 2.4 Ghz
E-Machines Celeron 2.6 Ghz
Dell Inspiron 1100 Laptop Pentium 4 2.6 Ghz
IBM ThinkCentre Pentium 4 2.8 Ghz
IBM ThinkCentre SFF Pentium 4 2.8 Ghz
Gateway 832GM Pentium 4 3.0 Ghz
AOpen Pentium 4HT 3.2 Ghz

I have more computers that I do not classify as "old" since I use them every day either at home or in the business. I still use a few Pentium 4's, with Linux or XP. But for the most part I now classify the Pentium 4 and Windows XP class machines as "old". My current Windows 7, 8.1, and 10 machines may be classified as old by today's standards. These are mostly Core 2 Duo machines, and a few iCore or AMD equivalent. They will become "old" after the next generation of operating systems no longer support them.

Peripherals
I have lots of monitors, printers, scanners, copiers, webcams, modems, routers, keyboards, mice, etc. These are not cataloged yet. I will list them when I have finished.

Software
I have lots of software also. I will put up my software titles after I get it all cataloged. MS-DOS, DR-DOS, Windows 3, Win 3.11, Win 95, Win 98SE, Win ME, Win 2000, Win XP, Win Vista, Win 7, MAC OS7, MAC OS9, MAC OSX, Linux, etc.

Tablets, PDA, Smartphones
I have several tablets. Some would be considered old. I also have several old PDA's and Phones. I will catalog these and add them to the collection.

Pictures will be added to all of the above, along with a list of specifications. Here's a few pictures to get started.


---
The DOS Corner

Above is a picture of my "DOS Corner" - From right to left - Packard Bell VX88 8088 PC Clone w/ MS-DOS 3.3 - IBM PC 5162 XT Model 286 80286 w/ PC-DOS 3.3 - Micron Millennium Pentium 133 w/ Win98SE - Gateway 2000 486DX2-66 w/ DOS 5.0 + Win3.11 + W95 - AT&T Pentium 200MMX w/ DOS 5.0 + Win3.11 + OS/2 Warp3 + OS/2 Warp4 - IBM PS/1 Consultant 386sx-25 w/ OS/2 2.1 - Dell Dimension 4100 Pentium III 933 w/ WinME. There is also a couple of disconnected computers near the floor and a Compaq Pentium 150 Laptop on top of the Micron.

The two PC's are not connected to the LAN or the internet. But I do have them connected with LapLink to the Gateway 486DX2-66. They each have their own keyboard and monitor. The 8088 has an amber screen and the XT/286 has a CGA and a serial mouse.

I have the three Pentiums connected to a KVM switch sharing a single 17" Multi-sync monitor and a PS/2 mouse and an old ARC XT/AT keyboard. The 386sx and 486DX2 share one 14" Monitor and a PS/2 keyboard and mouse through a separate KVM. All but the 386sx are connected to the LAN and can connect to the internet. The Pentium-III WinME machine is connected to a Canon BJC250 inkjet printer.


---
286-12 DOS and P-III-550 Win98SE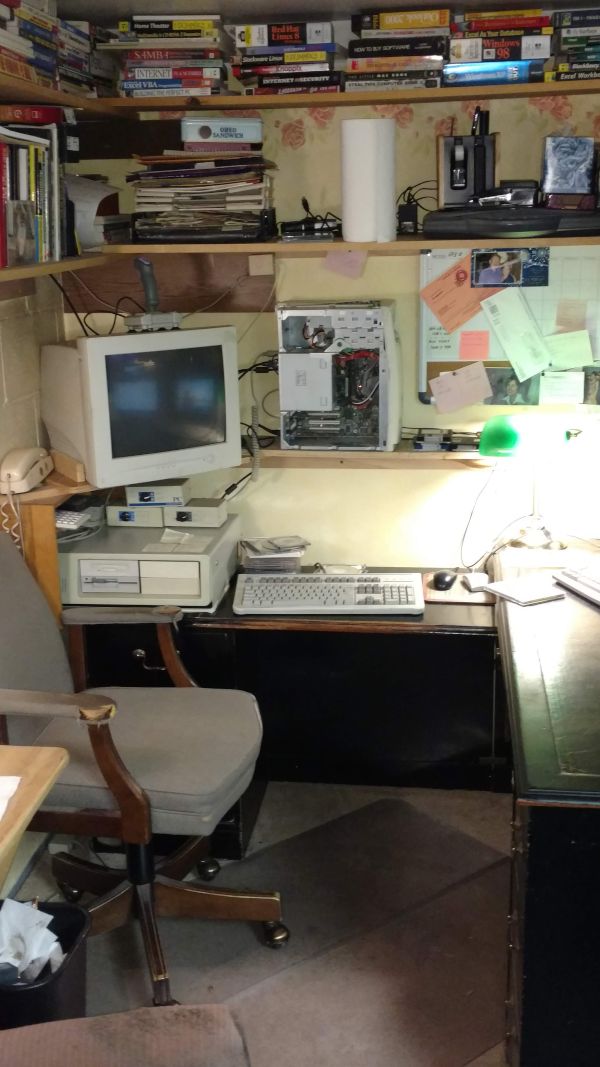 Here's a picture behind my main desk area where I also have an old DOS machine and a Win98SE machine. The DOS machine, on the left, is a KLH 195 AT Clone 286-12 w/ DR-DOS 7.03. The Windows 98SE machine is a Dell Dimension L550r Pentium-III 550 and it's missing it's side cover. These two computers share a manual KV switch for a 17" CRT monitor and an old PC Partner XT/AT keyboard. They each have a serial mouse. The 286-12 is on the LAN with an ISA Ethernet card and also has an old 56k modem on a serial port and is also setup with LapLink. The P-III is on the LAN with a PCI Ethernet card. Both computers are connected to a laser printer with a Serial switch and Parallel/Centronics cables.


---
Linux on Old Computers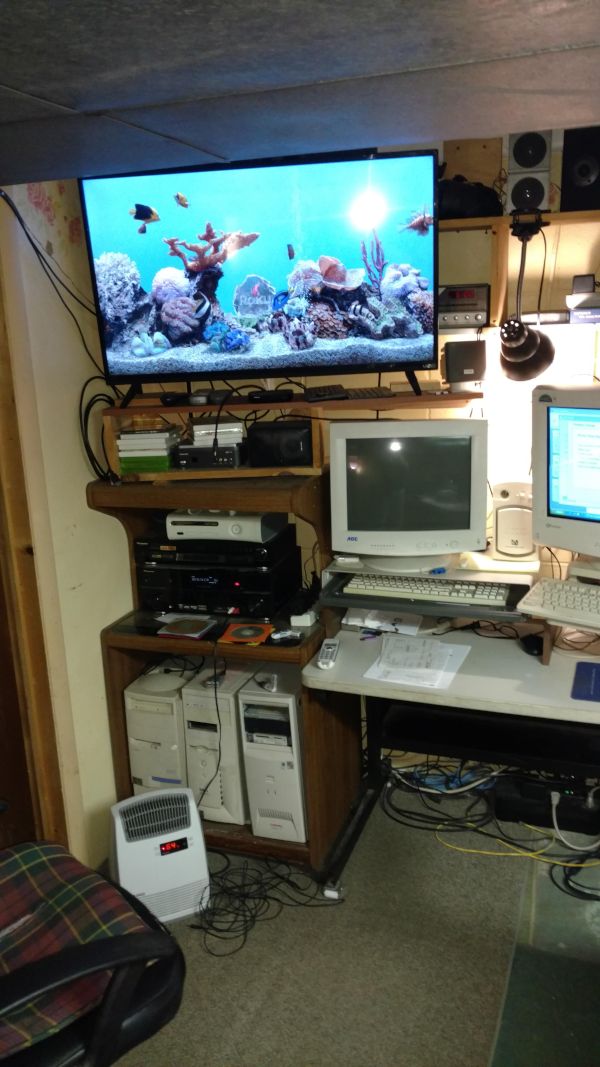 Here's a picture of where I have some Pentiums 2 and 3 that I run Linux on. These three computers are connected to a KVM switch and share a 17" CRT and a Chicony PS/2 keyboard and a PS/2 mouse. (This is also where my main TV screen is located where I use a Roku). Near the floor from left to right - IBM Aptiva Pentium-II 350 w/ W2KPro + OS/2 Warp 4.52 + Linux (Puppy 214X & Vector) - Dell Dimension XPS T600 Pentium-III 600 w/ antiX Linux 16GUI + 17TUI - Compaq Deskpro EN Pentium-III 1.0 Ghz w/ W2KPro + antiX Linux 17 & 19 + Q4OS Trinity + Debian 9 & 10 + several other Linuxes. This is where I play with Linux more than DOS or Windows although I do use Win2K for some games. The Compaq Deskpro is my main test bed for Linux on old computers and I keep it running the latest Debian editions and browse the internet just to see if it can still do it. (It can!)


---
Some Semi-Old Computers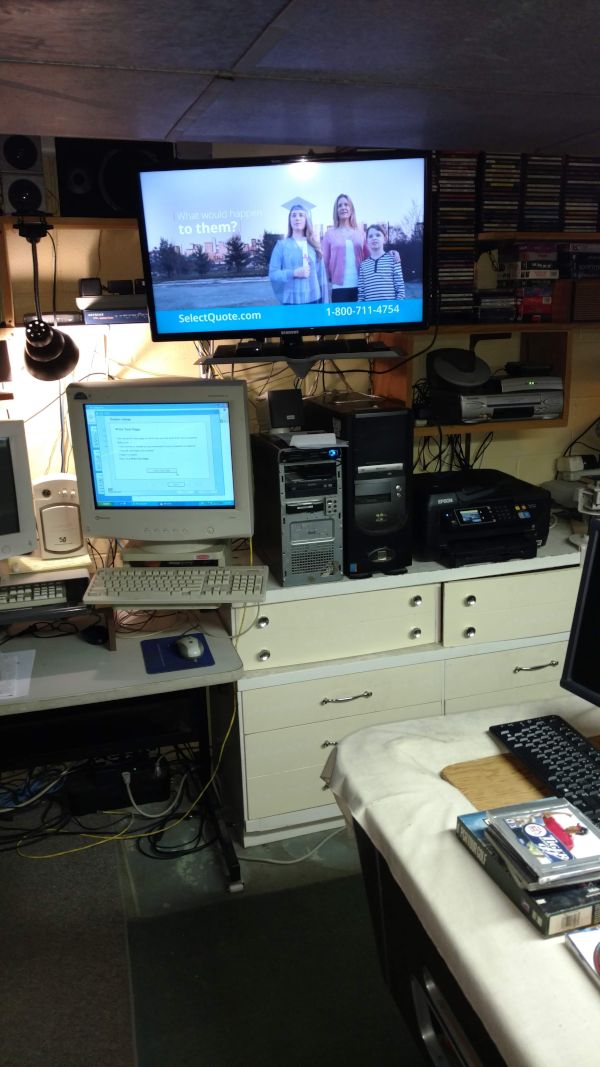 Here is the adjoining area where I have an old Pentium 4 and an old Core2Duo. These two computers share a 19" Flat CRT and a Compaq PS/2 keyboard and a PS/2 mouse through a KVM. From right to left - AOpen Pentium 4HT 3.2Ghz w/ WinXP3 + MX Linux + Q4OS Plasma + Tumbleweed - Gateway GT5438 Core2Duo 1.8 Ghz w/ Win8.1 + Classic Shell. I use the Gateway Core2Duo as an HTPC using WMC and KODI. The TV screen above is the main screen for that computer. I found this machine at the landfill and it was missing it's front panel. (I don't have this computer on my list of "old" computers since it still runs Win8.1). The P4 is connected to an Epson AIO printer/scanner/fax and acts as a go-between for my Windows 7/8/10 machines and the Win98/WinME machines when it is booted in XP. This is my best "old" computer - most power, newest Pentium single core.

Return to top